Drain Unblocking Services in Dubai
Are you experiencing a Drain Unblocking Dubai?  Whether it's a blocked sewer drain, stormwater, toilet, sink, or shower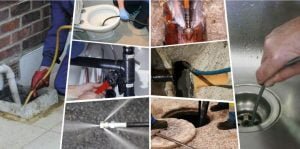 drain, the team at Plumbers Dubai can unblock them all. Our Drain Unblocking Dubai specialists are fully equipped and we offer our valued clients 24/7 same day service guaranteed. For all your blocked drain issues no matter how big or small, call us on 0523719388 and have your drains running again.
Drain Unblocking Dubai Services
We specialize in following drain cleaning and drain repair services:
Blocked sewer drains – internal and external
Blocked stormwater drains – downpipes and pits
Tree root cleaning
Blocked bathroom drains – showers, basins, baths, floor grates, and toilets
Blocked kitchen drains – sinks and gullies
Replacing cracked or Brocken sewer and stormwater drains
Drain excavations
Drain renewals
We use the latest technology to Drain Unblocking Dubai:
–High-Pressure Water Jetters are used to clear blocked sewer and stormwater drains. Electric eel grinds through the blocked drain whilst a pressure jetter penetrates the blockage and fully cleans internal drain walls, pushes sand and other debris out of the drain. Such as Tree root cutting, sand and soil removal from stormwater drains, grease removal for catering businesses, and more.
Drain Camera
We have only equipment used to identify damaged sewer and stormwater pipes, as stormwater and sewer drains are located below ground. The drain CCTV cameras take the guessing out of the work. This equipment also clearly identifies the causes of reoccurring blocked drain problems where the footage or picture is presented to our valued clients and making it easier for them to make informed decisions on drain repairs. –Underground pipe locators used to pinpoint camera head location showing us the exact location. So, Including the depth of the damaged drainpipe making it easy for us to provide an accurate quotation for repairs.
Blocked drains are a regular occurrence in Dubai's households and businesses, there are many things which can lead to a blocked drain.  Simple items such as food getting stuck in the kitchen sink drain, hair in your bathroom drains or tree root intrusion in your sewer or stormwater drains. We also have experience and equipment to clear them all. Call us at 0523719388.
How To Identify Early Signs Of Blocked Drain
Are your toilets or sinks making a gurgling noise, your water is not draining away or the water is draining away but at a very slow rate, you are experiencing a blocked drain. There may be un-dissolvable material or defects in the drainage pipes or even tree root intrusion that is causing the blockage. So, no matter what the cause, Plumbers Dubai will diagnose it quickly and keep you fully informed.
What To Do When Your Drains Block Up
Minimize the flow of water down the drain as it might cause an overspill or flooding in your home.  Drain Unblocking Dubai is classed as an emergency and our team at renovation Dubai provides same day service 24/7. We use the latest equipment to solve all of your blocked drain issues. So no matter where you live in Dubai contact Plumbers Dubai on 0581873002. We'll be able to get a plumber to you as quickly as you need us!
EFFICIENT MULTI-SKILLED PLUMBERS AT YOUR SERVICE
ALL THE NECESSARY TOOLS AND EQUIPMENT
Your plumber will arrive fully equipped and ready for action. Once he figures out what causes the blockage, he will use the right tool for the job. The specialists carry everything necessary such as manual instruments and high-pressure water jets.
DRAINAGE MAINTENANCE
Don't let the drains work sluggishly. Act now to avoid further problems like leaks, blockages, unpleasant smells, and all kinds of messes around the house.
FLEXIBLE AVAILABILITY AND RELIABLE PROFESSIONALS
The plumbers are available all week long, including on weekends and bank holidays. You can enlist their help even during after hours. And they are all experienced and reliable.
COVERAGE
Our drain unblocking services are available in every Duai areas.