TILING YOUR BATHROOM OR KITCHEN HAS NEVER BEEN EASIER
RenovationDXB can help you with professional tiling services in Dubai. We can send expert tile fitters to your place who will remove the old ones and place the new with minimum hassle. Soon you will be able to enjoy your newly tiled bathroom, kitchen, or floor in any other room. We offer you one of the fastest and most reliable ways to deal with this particular type of home improvement. The specialists will make sure that you are content with the work they've done. For easy reference, Tiling Services, here you can take a look at some advantages that come with this service: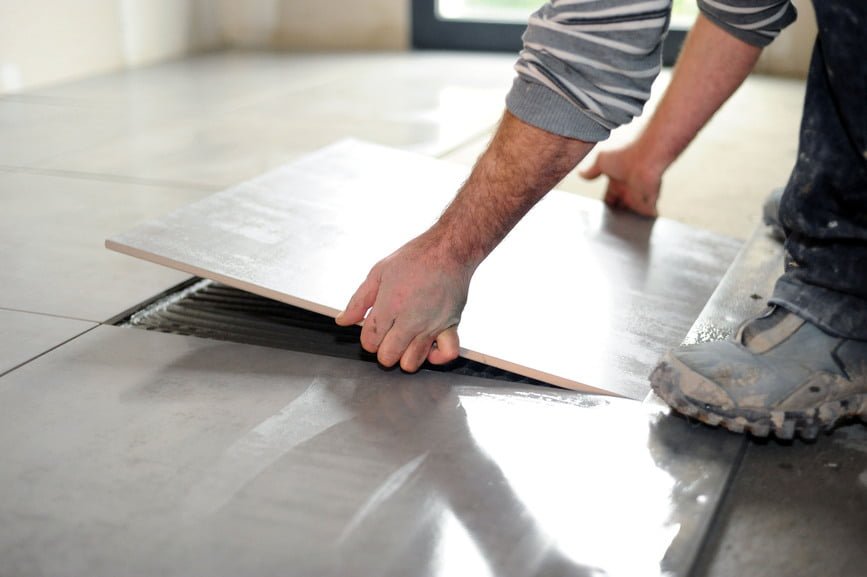 Suitable for all kinds of properties and rooms;
Time-saving, efficient, and flexible service;
All equipment and tools are brought by the specialists;
Extra materials can be bought and delivered to your place;
Hourly-based charges, due upon job completion, so that you pay for the actual time the service takes
QUICK AND EFFICIENT TILERS AT YOUR SERVICE
ALL NECESSARY TOOLS, EQUIPMENT, AND MATERIALS
This is a service that takes care of everything. In other words, the professional tilers will bring all that is necessary for the successful completion of the job. From equipment and tools like tile cutters, grout finishing instruments, and adhesive spreaders, to the very grout and adhesives. Also, the expert can collect and deliver your tiles of choice before the service takes place. Keep in mind that the costs for the tiles and materials used will be added to your final quote.
GET EXPERT ADVICE ON THE TILES YOU CHOOSE
The tilers will be happy to offer you their professional opinion on what kind of tiles you should get for your property. And no matter what type they are, rest assured they will be installed correctly, and with minimum disturbance to your daily routines.
ALL TILING WORK HANDLED BY THE PROS
From the removal of the old tiles to placement of the new, all the work will be handled quickly and efficiently by the specialists. Additionally, all the grouting and sealing will be taken care of. And there will be no mess left behind so you will be able to enjoy and use your newly-tiled surfaces immediately.
EXTERIOR PAINTING SERVICES IN Dubai WITH EVERYONE IN MIND
Perhaps you run a local business and need seasonal window painting. Or maybe you're just a humble homeowner who wishes to match the property's exterior with the charming garden outside. Regardless of the case, we believe that we can provide professional window frame paint, paint panel door, and other services that perfectly match your needs and come at fair window painting prices. The professionals can also bring every single thing your project needs – from drop cloths, masking paper, and paint brushes to razor scrapers and step ladders – right at your doorstep. We will then list the cost of all materials in your detailed price estimation.
HIRE AN EXPERIENCED WINDOW PAINTING BUSINESS FOR A SEAMLESS PAINT JOB
You can easily order our window painting service for this Sunday, next Wednesday, or any other day you choose by giving us a call. Alternatively, you can also get instant quotes on our house painting prices or book a session via our real-time chat or online booking form. And, unlike with other house painting companies, you can do so at your own leisure – all contact options are always available around the clock, so there's never a rush. Just mention which windows, doors, or walls you want revived and step aside as the handymen fix all surface imperfections and make your home look even better than you've imagined.